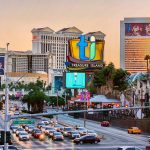 Today I have the chance to spend a busy day with Amber Anderson, a powerhouse broker for Pacific Sotheby's, as she jets across the west coast speaking at panels (including Sotheby's Video Marketing Panel), sharing expert advice, and networking with others in her field.
We start the day in Mission Beach, San Diego, at the SDAR Global Panel. Panelists speak about global real estate, immigration attorneys, and foreign entity trusts. Amber takes the opportunity to catch up with old friends, meet some new faces and spread her knowledge. She advises people to get involved with organizations like the International Real Estate Federation based out of Paris, that has taken Amber all over the world. She stresses how important it is to find an organization that protects your referral. After some quick chats with colleagues, we're off to the airport to hop a flight to Las Vegas!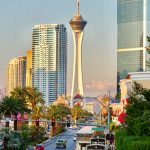 Amber is speaking at Sotheby's Global Networking Event (GNE) as a panelist on the Video Marketing segment which is taking place in Las Vegas, Nevada, just a few hours after her engagement in San Diego, so we're hoping everything goes smoothly, and thankfully it does. We arrive in the city that never sleeps and navigate the busy streets straight to the Wynn Hotel. As much as she loves global real estate, video marketing is Amber's passion, she she's excited to get stared. Amber tells me she loves to speak at these events because of the positive energy, and more importantly, because they helped her when she was a young agent just starting out. They're a great place to network with agents within your sphere and to learn from more experienced people in the business. At the pre-panel meet and greet, she talks about the importance of the blogging method in order to get into the YouTube Space. She and other experts in the video marketing world, including Andrea Savage, Christian Russo, and Erica Meadows, share their biggest tips when it comes to increasing your business through online video. One piece of advice that Amber's stresses is to try to get video testimonials from clients, because they really make and impact, especially if shot by a high quality videographer.
After all the craziness of the day, we head over to the penthouse event hosted by Concierge's Auction. The penthouse is gorgeous, with incredible views of the lit up city, plenty of drinks to go around, and a great group of well-dresses agents. It's another chance to network a bit, catch up with old friends, and relax after a long day's work.
Spending the day with Amber is always a good time, and a great opportunity to learn from a true real estate maven. The highlight for me was watching the Sotheby's Video Marketing Panel. I'm looking forward to following along on another whirlwind day with her!