Carlsbad Flower Fields: Easter Celebration
This year was Makena's first Easter so Kari (aka the Easter Bunny) prepared some Easter baskets for Makena, Milo and I. They were filled with lots of awesome things including some new toys for Makena, some treats and a bone for Milo and some clothes and food for me! Kari used to get Easter baskets as a kid and she wanted to carry on the tradition for Makena. Nothing too crazy, but just a little something fun to look forward too!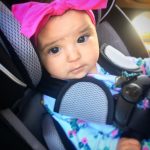 We had Kari's mom and niece from Vegas visiting us for the weekend so we decided to go swimming. It was Makena's first time in the pool and she did so well. The pool is supposed to be heated to 82, but it was only at 72 degrees so it was a little bit chilly. We put her in her little float/raft and she surprisingly didn't cry at all. She was just looking around and kicking her feet in the water. We can't wait to get her into swim lessons soon. Isabelle and I had fun swimming and jumping in the pool. Our favorite jump was a dab and then jump!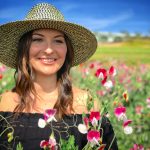 Kari and I have lived in Carlsbad for almost 5 years and we have never been to visit the Carlsbad Flower Fields, even though they are literally just down the street from us! So we took full advantage of visiting them when our best friends from Kauai were in town.
It actually surprised us how many different exhibits and activities there are at the Carlsbad Flower Fields. Not only do they have the fields of flowers to walk through, but they have little booths selling items, a playground, mining station, food and lots of different exhibits. They also had a fun maze that you can go through and a tractor ride that will give you a tour and take you around the fields.
The flowers were beautiful and in full bloom so they were very bright! It was nice to just walk around and take pictures and enjoy good company. Kari and I are thinking of getting a season pass to the Carlsbad Flower Fields next year so we can go more frequently. If you are ever in Carlsbad in April/May be sure to check them out!!
We ended Easter weekend with a visit to Carlsbad State Beach. We ate dinner, watched the waves and just enjoyed reflecting on a great weekend with family and friends.