Real Estate Marketing Videos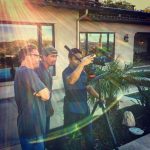 Amber Anderson and I are really excited to sit down and chat today. It's my first attempt at starting a new series of podcasts to go with our vlog-style videos. She and I have been collaborating for years, and I'm looking forward to having everyone see the unscripted side of Amber that I know well. We've recently started making a new kind of video (a vlog) in order to show a different perspective on what Amber does on any given day. While the interview-style videos and property videos are great and really effective, it's helpful to have a bit of variety and to give people the opportunity to really connect with an onscreen personality. Clients finally get to see a day in the life with Amber, specifically, the value she puts into her marketing.
As Amber's video coach, we consistently create content for her and her brand that is both unique to her and her style of work. Having raw, unrehearsed, and real-time footage helps create a form of transparency that any viewer can appreciate. Even though being on-camera with no script and no interview questions can be hard and slightly uncomfortable at times, it's this vulnerability that shows people how multidimensional she is, and makes them feel like they know the real Amber. I can push her and coach her through it so people can see her genuine, off-the-cuff interactions with her team, clients and community. Vlogs allow Amber to build rapport with her audience by giving them an "over-the-shoulder" perspective of her day-to-day activities. It's a form of interaction in which clients feel no pressure because they get to be a fly in the wall and don't have to worry about the impression they will leave. This makes people immediately more connected and comfortable when they do meet Amber in person because they feel like they already know her. Thank God for real estate marketing videos.
Creating a Library of Videos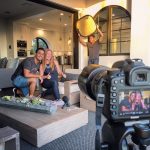 By traveling together to various expert panels, property shoots, events, etc. we've been able to build a library of footage that we can repurpose over and over again. Some of our other favorite types of videos to include in this library include: agent stories, education videos, destination videos, and client testimonials. By keeping a mic on Amber, I can capture great visual and audio sound bites of her interactions with colleagues and clients. All this content is kept indefinitely and reworked into multiple videos that will be completed some time in the future. If we can make multiple videos from a single day's shoot, the value of her dollars grows exponentially which is ultimately our goal. Our systems turns out to have so much more value than a single-day property shoot could ever have, because we're able to pick and chose content from various situations and use them to our advantage. By filming properties in-context, with lifestyle shots and scenes from the neighborhood and surrounding community, we're able to communicate much more about the property than photos or regular videos ever could. Amber has been able to sell properties and receive offers "sight-unseen" because the buyers feel like they already know the overall feel of the property despite never having set foot on the property.
Creating real estate marketing videos is a networking strategy for Amber as well. Through the content we create together, she has become a resource for other agents in the company, and she knows that helping others with come back around and do good for her, too. She likes to say "your network is your net-worth" and she couldn't be more spot-on.
Social Media
We talk about how important it is to have consistent videos on a variety of platforms in order to increase the influence and effectiveness of our videos. Each social media platform suits a different demographic and uses a different format, so it's essential to tailor content to fit those specifications, while still retaining your brand identity. In this day and age, video is a major tool for marketing and business, whether over Youtube, Facebook, Instagram or another platform; over 50% of businesses say they rely mainly on video to sell their product, so high-quality, professional videography and editing is worth the investment (I may be bias…lol).
Before we wrap up, we need to mention our upcoming event in Dallas, Texas. Amber and I want to help everyone build the kind of partnership we have, so we'll be training agents and videographers to use real estate marketing videos. By training people locally on how to film and edit well-made, effective real estate content, local agents will have an easy resource to go to in order to build their own brand. This event will be amazing. Amber will handle the real estate side of things, while I will be focusing on training the videographers. I have a background in real estate & mortgage, so I have a great understanding of the real estate industry and what agents need, which is valuable information that I can pass on to my trainees. We're really excited to share our work with everyone and we hope to see you there!