December 25th, 2016 was Makena's first Christmas. The original plans for our San Diego Christmas was one that put us away out in Orange County and Riverside County. We were to spend time with family and friends. However, being that we're still adjusting to being new parents and having a newborn has its many challenges due to the constant changes and new habits that we have to incorporate into our daily lifestyle, we thought it would be better for us to stay put in Carlsbad.
Makena had a great week leading up to Christmas, however, she was a little fussy due to no fault of her own. We did not really monitor her stimulation and had her out with friends and different events, which created an unstable routine. Therefore, we had to make adjustments, and we felt like spending Christmas at home would help us make that adjustment. And in fact, it did because we were able to rest, regain our strength, and create a new schedule for Makena. Kari's a great mom, and she had some foresight and thought that we should create a new routine for Makena that included low-stimulation or minimal stimulation throughout the day, therefore, she went to bed not overly exhausted and over tired.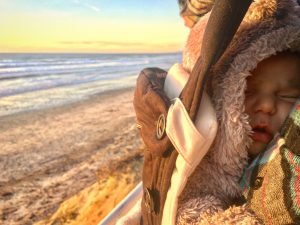 On Christmas Day, we woke up fairly late, and that was due to trying to get our additional sleep from the week that we had prior to Christmas, and it was a nice change of pace, being able to sleep in. And we got up, took our time, had a great breakfast that Kari had prepared for us, and then I took Makena & Milo out for a walk – that way, Kari could get ready for the day. We decided to go get some water at the local Carlsbad Alkaline Water, and from there, we got our coffee, and then headed to Beacon's Beach, which is a beach in Encinitas, California.
We like going to this beach because it has great views and an amazing cliff to overlook.  Luckily, we were able to find a parking spot (it's generally a pretty popular destination), and from our car, see a beautiful sunset. However, we had never ventured down, down the trails, down the cliff, to the actual beach to feel and touch the sand or the water. Now, the cliffs and the trails are safe, however, there are warnings that it is unstable. However, there is an official trail that you can take, which is the one we took. It was beautiful. The tide was high, so we actually weren't able to walk too far north or south along the beach. However, we spent some time on the sand just talking about our great year.  Eventually we made our way back up just in time to watch the sunset from the cliffs.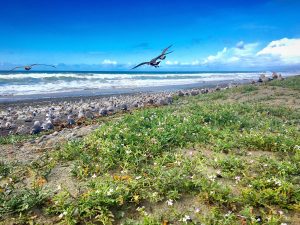 Even though our Christmas was very different than we had originally intended or planned, it was however a beautiful and eventful day.  We adapted, we changed, we evolved, and we created a great experience for our family. We did miss Milo however. Milo was actually with Laurie, which is Kari's mom (my mother-in-law) and she had taken Milo to her house the previous week under the assumption that we would make our way to her house for Christmas and pick him up then. Milo didn't get back home to us until the following week when Laurie came back to Carlsbad to celebrate her birthday and our niece's bday (Izzy).  So even though our Christmas was not what we expected or planned, we had one of the most memorable holiday's of our lives because we were able to spend it with our newest member of our family (#MakenaKingsley).