I've been trying to stick to an early morning schedule to really make the most out of my day. Typically, I will set my alarm for 5:30am, do some meditating, write in my journal, affirmations/mantra and then head to the gym.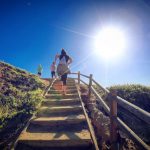 I always try to meditate or reflect on a thought in the mornings and repeat throughout the day. Today's thought was "Your role in this world has meaning." Because we are supported by God and the universe, we should feel limitless in what we can do. I love this concept and think that it has really changed my mindset and outlook on life.
My morning workout consisted of a little yoga, some nice stretching and cardio and weights. I try and do yoga every day to keep my back pain away and make sure my core stays strong. It has definitely been one of the main practices I have implemented and that really makes the most difference in not only easing my back pain, but refreshing my mind, spirit and soul.
Today we are filming in La Jolla at a property on Skylark. It's a La Jolla Muirlands Home with amazing ocean views so I definitely needed to make sure I had an early start so I can be ready to film today! The night before I pack and charge all of my camera equipment so we are ready to go! Our team is actually upgrading to new camera equipment this month so we are excited to see how the footage changes for the better!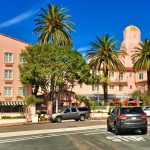 Usually when I am filming, I don't have too much time to sit down and take a proper lunch break so I like to have something on hand that is quick, effective, nutritious and delicious. My usual go-to snack/meal on filming days consists of smoothies and juices that are packed with protein, vitamins and minerals. And it's important to always stay hydrated so I make sure to bring my gallon jug with me everywhere I go, especially on days when we are filming large properties with numerous acres!
Filming is always fun and sometimes it requires me to do more than actually filming and producing the shoot. I have moved furniture, taken out pool equipment and rearranged plants to be more aesthetically pleasing. Although, I should definitely charge more for that (LOL!)
It was a great day filming! The property was very nice and it had a lot of cool outside features that made it unique. If you want to read more about the home see below!
And after a long day filming, we always stop and get some non-liquid food, usually at Jimbos, Whole Foods or Chipotle! We then catch up on the day's activities and finally rest!
Be sure to stay tuned for more behind the scenes vlogs!
"La Jolla Muirlands Home with Unbeatable Location Boasts Ocean Views"
Nestled in the highly sought after Muirlands community of La Jolla, sits the stunning, masterfully designed La Jolla Muirlands Home; 5701 Skylark Place. Perfectly situated on a corner lot within a peaceful cul-de-sac, this magnificent home provides spectacular ocean views to the south, and endless high-end amenities.
From the eco-friendly and low maintenance landscape to the immaculate interior, this 4 bedroom plus a large separate office, 4-bath home boasts approximately 3,000 square feet of living spaces, and was recently renovated and upgraded in 2016.
Entertain in the spacious living room, complete with travertine flooring, a fireplace, cathedral ceilings, and a bay picture window or relax in the family room with a sliding door leading out to a patio with a wood pergola, where you can take in mesmerizing ocean views.
The gourmet kitchen of this La Jolla Muirlands Home comes fully equipped with stainless steel appliances, beautiful cabinetry, a large center island and walk in pantry. Host a dinner party in the bright and airy dining room, with numerous windows allowing an abundance of natural light to flood the room.
Unwind in the spacious master suite featuring hardwood flooring, a fireplace, oversized walk in closet, spa tub and walk in shower. Sliding glass doors lead to an outdoor patio, taking full advantage of indoor/outdoor living.
And with an additional three bedrooms, as well as a spacious office with double bay built-in office cabinets and desks, there is definitely no shortage of space in this expansive home.
Truly an entertainer's dream, the large backyard comes complete with a Pebble Tec pool and spa heated by the home's solar panels, a secluded private back patio and pool deck, as well as a BBQ island and outdoor kitchen. Take the spiral staircase up to the roof top deck, where you can take in the panoramic ocean views and enjoy the fresh coastal breeze.
And just minutes away, you can easily find some of La Jolla's most famed attractions. Spend the day at the beach, stroll through the Village where you can find upscale boutiques and gourmet restaurants or visit some of San Diego's most renowned institutions, such as the Scripps Institution of Oceanography or Stephen Birch Aquarium and Museum.
With an unbeatable location, this impressive La Jolla Muirlands Home is the perfect place to call home.