Day 7: More Hanalei, Nene's at Kilauea Lighthouse and Sunset at Anini Beach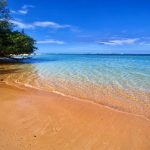 Today was a very relaxed day! We posted our baby announcement (baby coconut on board) on social media this morning and we were so excited to finally share the news with everyone! We spend the majority of the morning responding to texts, Facebook and Instagram and just enjoying all of the love that was coming our way. It was a rainy day, so it was nice to just lay around the condo all day and unwind!
Around 5pm, we decided we better get out and explore a little so we headed again to Downtown Hanalei (I told you it was our favorite place)!  We browsed through some shops including this one that showcased all of the Tribal Art. It is really cool to see all of the rich history and culture and different artifacts that were here. If you are ever in Hanalei, you should definitely check it out! We also stopped at Hanalei Bread Company to get some iced chai and coconut soy lattes! So good!!!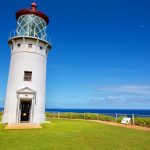 Afterwards, we headed down to Kilauea Lighthouse again to check out some of the gorgeous views. Last time, we saw a ton of sea turtles swimming in the ocean. You can always walk down to the actual lighthouse when it is open and there is a lot of educational information and a great place to spot whales! It gets pretty windy so be sure to bring a jacket or sweater!
We then headed to Anini Beach to get a little sunset swim in because we love how calm and clear the water is there! It's the perfect spot to just relax and wade in the water while enjoying the beautiful sunset! We made a promise to ourselves that we would swim in the ocean every single day while we were in Kauai. I mean, that is why you go to Kauai right? It's just amazing to swim in the sparkling, crystal clear and warm water! No wonder locals are so chill! They live the good life here in Kauai with their warm beautiful water!
After watching sunset at Anini, we headed back to our condo and had a delicious dinner and then went to sleep! It was such a perfect and relaxing day on the Garden Island!