Buying & Selling International Property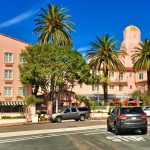 One of Amber's top real estate tips has consistently been to attend panels with experienced agents in order to grow your network and learn new skills. That's why she participates and speaks at so many events – it's a way to "pay it forward" to the people who helped her grow when she was first starting out. She and I headed to downtown San Diego for her talk as a panelist at the Global Real Estate event.
Amber Anderson has been a broker with Pacific Sotheby's International Realty ever since she transitioned into real estate, and now has her offices at their global headquarters in La Jolla, CA. She studied at Oxford and has a background in finance, especially international finance specializing in foreign nationals, so she has traveled the world giving seminars about buying in San Diego.
During her talk, Amber stressed the importance of having documents in the proper language when dealing with buying and selling international property. The documents need to be in a language that a US lender can underwrite, so providing a professional translator is essential for a smooth transaction. Establishing which financial institution will handle the transaction ahead of time is a must, especially when working with clients overseas.
Another important aspect of global real estate is facilitating outgoing referrals. By using your network to connect clients to other agents they can work with in any country, you can strengthen your network and create a more stable living. Amber advises everyone to be with an organization that protects referrals. She works with Sotheby's International Realty but there are other organizations like CIPS and FIABCI – the International Real Estate Federation based out of Paris – that can help agents ensure their referrals are protected. She has a downloadable guide to buying property in San Diego on her website, sandiegodreamrealestate.com, with a section specifically addressing buying and selling international property.
Her last piece of advice is to get involved with the international real estate community. Amber has done extensive work with FIABCI and is the former president of her local council. Her work has taken her around the world, to global congresses held in St. Petersburg, Russia, Indonesia, and next year, Dubai. The best part of these events is they cover all aspects of real estate. According to Amber, "who's who" is always there, so it's an incredible resource for agents hoping to get more involved in the international real estate community.