We definitely live by the motto "work hard, play hard" so when the weekend rolls around we always try to make it one filled with various adventures and lots of fun.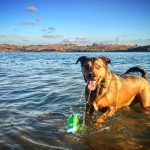 This weekend we decided to start off our Sunday morning with a trip to Agua Hedionda Lagoon in Carlsbad. It's not too far from our house and we found a little trail that you can take that will lead to a private beach. A lot of dog owners take their dog's here to play fetch and burn off some of their energy.
Milo loves coming here so we try to do it as often as possible. Today, we ventured down the trail and there were some people from out of town there with two large dogs who they said weren't very friendly, so we headed to another private spot just around the corner. Due to all the recent rain we had during our winter months, the trail was blooming with bright yellow flowers. It was the first time we had ever seen so much color on the hill! Beautiful!
It was Makena's first time going to the lagoon (at least out of her mom's tummy) and she loved watching Milo run into the water and chase his toy. She also loved seeing the kayakers and stand up paddle boarders! We can't wait until she is older and we can take her out on the water for the first time. It was a beautiful start to our morning and it even made Kari be a little more adventurous and wade through some seaweed on the alternate trail. So brave girl!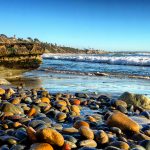 Because we took a different trail, Kari wasn't wearing the best outfit and was wearing an old pair of sandals. They got a little messed up from the water and we went to go find her some new ones at Sun Diego. They were having a really big outdoor sale so we headed down to Carlsbad Village and checked out the merchandise. As always, Kari shopped for me and not for herself and we left emptyhanded. But Milo got lots of love from all of the employees there. There was even an employee named Milo!
Our Sunday tradition always consists of going to the Leucadia Farmer's Market to get some delicious vegan food. Our all-time favorite spot, Anthem Vegan, has the best food and always has new dishes to try. We barely made it before closing but were able to try their French Dip sandwich, which was delicious. We also got some French Fries from this Belgium French Fry stand! So much yum!
Last but not least we went to Ride Cyclery in Encinitas to pick up my bike. They have an awesome location, right on Highway 101, and it's definitely a hub for cyclists. They stop for coffee, fix their bikes and have a whole community who share a common interest. The owner really did a great job of growing their brand into a community. If you are ever in need of a bike, definitely check them out!