Day 8: Princeville Sunrise & Hanalei Bay Pier
We have been to Kauai multiple times and have seen so many beautiful sunsets, but we have never woken up early enough to actually watch a Princeville sunrise. Because it was our second to last day of this trip, we decided to wake up early and cross off watching a Kauai sunrise from our bucket list. We got up at 5:20am (super early for a pregnant lady) and headed up the street to a little overlook near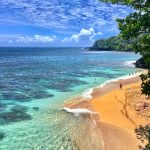 Hideaways Beach and The St. Regis Princeville. The Princeville sunrise was beautiful and vibrant and definitely worth the early wakeup time to see such majestic colors in one of our most favorite places.
Afterward the Princeville sunrise, we decided to head to Hanalei to enjoy some time in the sun. Hanalei is definitely one of our favorite parts of Kauai. Everything is just so scenic and green. You pass over the Hanalei Bay Bridge and you are just surrounded by lush greenery and taro fields and it is just so beautiful!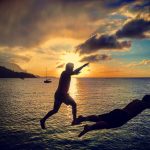 We tend to spend a lot of time at Hanalei Bay because it is one of Kari's favorite spots on the island. The water is typically calm and you can actually walk out pretty far before it gets deep. It's just very peaceful and we love to just wade in the water and float. It's also a great place to stand up paddleboard and sea kayak!
After a day in the sun, our best friends (Randon, Melissa and baby Lukas) joined us for a final night of adventure. We continued our tradition of jumping from the pier at sunset. Since the girls were both pregnant, they took some epic pictures of us jumping and just enjoying one last night in Kauai. These are some of our favorite moments of the trip! You know it is a successful trip when you spend every day in the ocean without a care in the world!
Day 9:  Lihue Airport & San Diego (Home)
Our last day in Kauai is always bittersweet. We loved being able to make more memories, explore new places and visit our best friends. We are sad to leave the beautiful island, but at the same time we are happy to travel back to our own paradise (Carlsbad) and see our puppy Milo.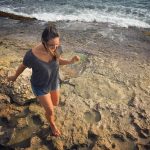 We also solidified some baby names for our little coconut on this trip. If we have a girl, we decided to name her Makena Kingsley (beach in Maui), which means Happy One in Swahili and Abundance in Hawaiian. If we have a boy, we will name him Makai Kingston, which means towards the ocean in Hawaiian. We have to keep the aloha spirit alive!
Also, just a word of advice, always leave earlier than you need to for the airport, especially if you are traveling with a pregnant lady. We dropped off our rental car, took the shuttle to the airport and were greeted by the longest TSA line we have ever seen at the Lihue airport. We definitely did not think we were going to make this flight! And because Kari was pregnant, she opted not to go through the scanners and to have a pat down instead so we were literally running to our gates by the time we were done! We were the last people to board, but who really wants to sit on an airplane and wait anyways!
This Kauai trip was nothing short of amazing and we can't wait to take our little coconut with us on our next adventure! Aloha and Mahalo!!