Our third day in Kauai was amazing just like the entire trip. What was unique about our third day was that it was a Saturday, so we had officially started the weekend, and we had an opportunity to catch up with our good friends, Randon and Melissa Guerpo, who live on the island of Kauai. Being that they're locals, they always know where to take us to have a good time and tap into our adventurous side. I continued the same morning routine that I have in San Diego, California, and I brought that with me to Kauai because I knew I needed to have that same routine to be as efficient, as effective as I could during our trip. My morning routine comprised of yoga, meditating, reading, journaling, and, of course, spending some time in nature.
Harvest Market in Hanalei
After our morning routine, Kari and I went to Harvest Market in Hanalei. We always found the freshest vegan food nearby and we loved it there so much. It had everything we needed, everything we could possibly want, from yerba mate, to breakfast burritos, to pre-packed sandwiches, to healthy warm food options, as well as cold food options such as smoothies & chips. You name it, they had it.
After a quick bite to eat, we headed out to meet our friends, Randon and Melissa who brought Julie, a good friend of theirs.  Julie is also a local and was born and raised in Kauai. Of course, that always makes for a better experience because we have several locals helping us to explore the island of Kauai.
Dragon's Breath
First up was Dragon's Breath. Though the trail, as well as the cliffs, are really intended for advanced thrilled seekers, we took the opportunity to go with the locals into what they call their backyard. I am not really a fan of heights, so when I came up to the steep cliff or hill that we had to walk down, I was a little hesitant, especially because I was wearing sandals and I did not prepare for such a treacherous hike. Now, the locals would laugh at me if they heard or read that I am saying these things. However, for me, being someone of a pampered San Diego residence, these types of hill, the steep hills were a little intimidating, I have to be honest.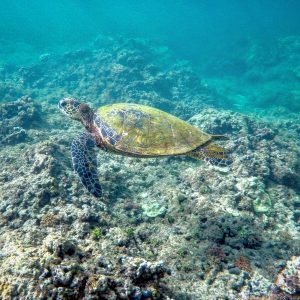 But I was really proud of my wife Kari who really braved through it all and went down the steep hill with me and we really had a great time. There were some rope there that was able to provide some assistance and, of course, we had the locals with us, which always is much more advantageous than any rope you could ever ask for. They always know where to take you and where to guide you. Once we made it down the hill, we came across a different type of adventure, which was walking over what looked to be like lava rocks. They probably aren't lava rocks, but just the way they're formed was very rough on your bare feet, so we had put to our sandals back on and walk over these rocks. But it was definitely worth the hike, because once we got to Dragon's Breath, it was really breathtaking.
I would say there's really about three areas where you can jump off these cliffs and into the water. There is an exterior part of the outlet that the water rushes in and out of, hits the cliffs, and back out. There's three sections. The first one is obviously the most open, the second is little bit less open. There's a bridge that kinda goes over one side to the other and provides a little bit of another avenue where you can go one side to the other, which, for me, divided the most exterior part of the outlet from the middle interior. And then you had the most interior, which actually was more like a cave. You could jump into it through this hole, land in the water. It's pitch black but really cool.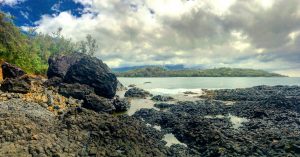 This one is why it's called the Dragon's Breath, because there's a hole, kinda like a blowhole where once the wave crashes onto the inside of the cave, there is a mist that spews from this blowhole, so to speak, and sounds like a breath, which is how it got it's name. You can jump through this little hole, and you end up inside the most interior part of the outlet. And on our trip to Dragon's Breath, we came across turtles. We saw two, a pair of turtles there, and we enjoyed swimming around them. We did not disturb them, we respected them, gave them enough space. But we did enjoy swimming and seeing them swim and enjoy what looked to be like them eating something off the rocks. I'm not sure what that was, but that was definitely fun to watch. Overall, our trip to Dragon's Breath, really, you could say, took our breath away. We love the island of Kauai.