Kauai, Hawaii is near and dear to us. My wife and I visit Kauai on an annual basis. Our best friends live on the island of Kauai, so there's an even greater reason for us to visit as often as we can. My friend, Randon and I were friends in college, throughout college, and started to really connect and remain friends throughout our lifetime. I was his best man in his wedding. He was in my wedding, and now our wives are great friends. And they have supported each other through their pregnancies, and now they are both due to deliver babies in 2016, the end of this year here. We're due in November. They're due in October.
Why do we visit Kauai?  Well, let's backtrack. We actually took off from San Diego International Airport, direct flight to Kauai, Lihue Airport. Now, the day was started early for us. We got up at about 5:00 in the morning, left to the airport with smiles on our faces knowing that in little than a few hours, we would be on one of the most beautiful places, one of the most beautiful islands in all the world.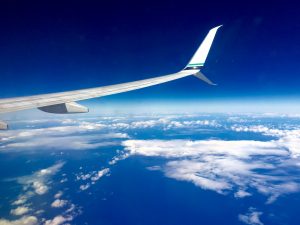 We arrived on time, had a little bit of time to walk around and check out the shops within the airport itself. There wasn't a lot of vegan options there at the airport which I was a little disappointed in. I was hoping to have a little bit more options, and when I went to go find some food for my wife, Kari, I wasn't really that successful. I did have some fruit that I was able to purchase, and I believe it was a Mediterranean salad. Other than that, we were pretty limited on what we could get.
We boarded a clean, beautiful Alaska Airlines airplane and took off. It was a great flight, not too much turbulence. Arrived in Lihue. It was a little warm, little humid, about 80 something degrees. It felt cooler than 81, so that was a plus. And on the first day, we started off our day with a nice cup of tea, coffee from Starbucks and took off. We rented a car from Avis and, you know, we actually ended up getting a pretty decent upgrade, so that was really nice.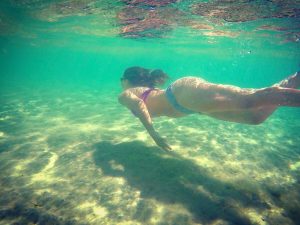 We arrived to our hotel, the Hilton Garden Inn in Kapaa, and were pleasantly surprised by the cleanliness and the newly renovated hotel. We realized that the hotel had not been finished yet, but most of the areas that we wanted and we were in were already completed, and we were very pleasantly surprised and pleasantly pleased. And, we loved the openness of the courtyard or the lobby area I should say. Lots of open air spaces that allowed us to lounge, and you could even eat a nice lunch, dinner, breakfast in the lobby area with just the open air concept.
And our room came equipped with two queen size beds with a nice view of the ocean and the pool yard and the pool area. The room was nicely decorated with some island themes. There were some Neutrogena products in the bathroom and the toiletries for our use, and what we enjoyed the most was the proximity of the hotel to the beach. You are literally walking distance to the beach, and the beach itself was amazing, but Lydgate Park is also right there, walking distance to and from the hotel. And Lydgate is very unique in that it's a park, but also that it has a section that has been bordered off by rocks, so you could actually snorkel and swim.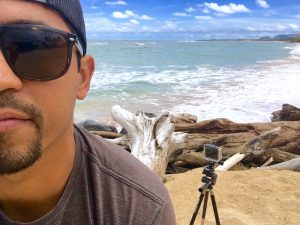 There's a lot of fish in there. I saw different types of fish in the, I guess you can call it like a reef area, and we enjoyed swimming and just floating in the water, nice warm water for our first part of the day.
Our first day on Kauai there in Kapaa was a bit hazy, still beautiful, but we spent most of the day just relaxing, getting acclimated to the weather, swimming in the ocean, and I was checking out some spots for some videoing, some time-lapses that I was gonna record, film during our stay.
We found a fantastic, natural food store nearby, Papaya Natural Foods store, and we ate there pretty much every single time we were hungry. We really recommend it. It's an amazing place, great people, great food, great message, great mission, lots of great healthy options.
The next day, we did pretty much the same thing. We swam a lot, enjoyed the beach, lounged, spent some time in our room, went to Papaya Natural Foods again for breakfast and lunch, and then I took some time-lapses of the local beaches there next to Lydgate. It was a great day and a fantastic time which is why we love to visit Kauai. That's the end of day two.