a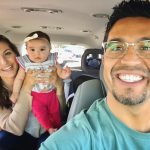 This year I turned the big 34, and it's my first birthday as a dad so Kari wanted to do something special for my San Diego birthday celebration. She had a whole day planned out going around San Diego and just having a little fun birthday with the family.
We were supposed to visit one of our favorite vegan restaurants Plant Power Fast Food in Ocean Beach for some delicious breakfast, but I was super tired and slept in so we had to change our plans a little bit!
While Kari got ready and packed our stuff, I took Makena and Milo on a walk and started off my day with some nice fresh air!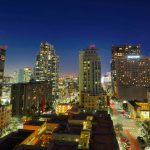 No San Diego birthday celebration would be complete without some Starbucks to start the day! With a Trenta Black Tea Lemonade in hand, we got gas and then dropped off Milo with our friend Hector who owns The Bark House, a doggie day care center!
After dropping off Milo, we headed out to Café Gratitude (a complete change of plans), but you have to be flexible when you have an infant! We got some delicious kale chips, vegan nachos, and a delicious wrap! We love how they ask people to order food. You say "I am.." and then the plate name. Some examples are I am vibrant, I am cool and I am exuberant! Always nice to have a little self-love!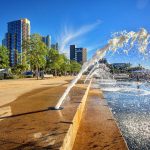 With full-bellies, we decided to walk around Little Italy and The Waterfront Park a little. The Waterfront Park has a big grassy area with fountains and kid's play area, so we took Makena for a little dip of her toes. She loved it and it was nice and refreshing!
For my San Diego birthday celebration, we wanted to make sure we could catch sunset so we headed down to Coronado Beach, where we camped out with our little sunshade from Costco and just enjoyed the fresh ocean air!
It was such a gorgeous and relaxing day and I actually ended it getting an hour massage at a local spa near our house! It was a great day with the family and we got to just hang out together, taking time to just go with the flow and visit places we haven't gone too in quite some time! What a great San Diego birthday celebration!