Morning Mantra
"I AM aware of the power I have to consciously decide how I react in any situation and I use this power to bring about more happiness, prosperity & health" – David A. Moya
So often we respond or act out of habit to just about every situation. Actually, who am I kidding? We're so busy now days it seems like that's the only way we know how to respond. Yet there's so much power we're giving away when we don't own the responsibility we have in creating our experience. At the forefront of this is how we process and ultimately react to any giving situation. I'm working on owning my power today.

In a Day of the Life
"Some people wear their heart on their cheeks" – David A. Moya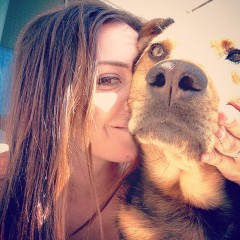 With the New Year quickly approaching my wife Kari and I started talking about reserving some time to make our resolutions and goals for 2016. We consider ourselves "go-getters" so of course we create a list of goals every year.  Because isn't that how you prove yourself to the world year after year?  This year seemed a bit different for us for some reason. After coming back from a business trip to Kaui, HI, we both felt a sense of peace and pride knowing that even though we had accomplished some great things in 2015 (one including going to Hawaii for work and play), we felt that our accomplishments in and of themselves didn't make us feel any better about ourselves. It was validation of our work no doubt but what we gained on our trip was far more than checking something off of our 2015 list of goals. We realized that accomplishing our goals was a result of a much deeper change in the way we live and breath each and every day.  So, the end result was that we felt good about ourselves not because of the literal accomplishment of the goal but because we KNEW & understood our VALUE and accomplishing our goal was a by product of an internal change.
With that being said, Kari had coincidentally done some research ahead of our trip and found a very resourceful "workbook" that was much more in alignment with our new look and perspective on goals.  The book is called "The Desire May: a Guide to Creating Goals with Soul" by Danielle Laporte.  Kari excitedly posted the following in an Instagram post sharing her new found "gem."
my friends- let me introduce you to this game changer right here // the desire map by danielle laporte// I love making to do lists, setting goals and having bucket lists- they are all great tools to help further one's wants and desires. But as Danielle says "you're not chasing the goal, you're chasing a feeling you hope reaching the goal will give you" // so now I'm focusing on how I want to feel and designing my to do lists and bucket lists on what will lead me to that feeling. Such a simple concept, yet something most of us don't do! I highly encourage you to pick up a copy of her book #igniteyourpassion #thedesiremap #mindblown#gamechanger
We encourage you to take some time this year and re-evaluate the way you few goals and create lists for 2016.  Don't use it as a way to prove yourself or measure your self-worth.  If you have any great resources that can help others, feel free to comment below.
Gratitude
"I AM grateful for the metaphors that are all around us. I am thankful for music and the reminder that the empty, quiet spaces in between the notes are truly essential in creating dynamic music. Such is Life" – David A. Moya
Anyone who knows me, knows I love a good metaphor. I feel they're like visual parables.  They're always around us and it's a language I understand, speak and love. The music metaphor (or is it an analogy?), makes me remember that the ebb & flow energy is always at work and we should be present and enjoy each moment.
***Copyright 2015. All rights reserved.