Day 5: Hanalei Shopping & Dining | Anini Beach Swimming & Snorkeling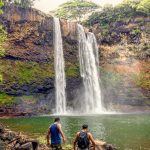 Day five and six of our trip to Hawaii were probably two of the most eventful and exciting days.  To start of our fifth day in Kauai, Kari and I went to a coffee shop and I got some work done while she browsed a few nearby stores and boutiques in Hanalei.  Afterwards we grabbed a bite to eat at Ally's Cocina, which is actually a food truck that Kari found for us.  We ordered and ate some amazing vegan Venezuelan Arepas there and they are beyond yummy.  
Once we finished eating we stopped by Hanalei Bay to check out the view – as this is one of our favorite spots in Kauai.  It was absolutely stunning from where we were standing.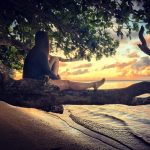 Then we headed over to Anini Beach, which is a very calm, family friendly beach for those who are seeking a peaceful oasis in comparison to some of the other beaches on the island that have huge waves.  Kari and I went for a swim and some afternoon sunbathing.  There were tons of beautiful fish, and we even saw a crab and an octopus!  He swam away quickly but I was still able to get close to him with my GoPro.  After we left Anini Beach we headed back over to Hanalei Bay (the same lookout point actually) to catch the sunset.  From where we could see mountains, tons of gorgeous greenery, pink fluffy clouds, and the sun setting behind the water.  Nothing beats the sunsets in Kauai.
Day 6: Food Trucks | Wailua Falls & Anahola River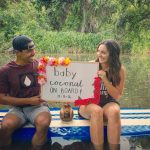 On our sixth day in Kauai, Kari and I met up with Randon and Melissa yet once again (we try and do it as often as we can when we're visiting).  We ordered ate food from another food truck called Nom, which serves amazing burgers and fries.  After our meal, Randon and I hiked down to Wailua Falls to enjoy the water and the world famous falls.  The hike down was steep and quite muddy (since it just had finished raining), but it was worth it once we reached the bottom of Wailua Falls.  The waterfalls were amazing.  Randon and I swam over to the base of the falls which was also great but the water is much colder then the water in the ocean.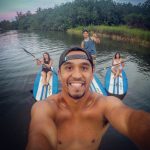 After our waterfall adventure, we took the girls to Anahola River.  Kari and I took pictures on the river holding up a sign announcing our pregnancy, which was the highlight of the day since we got to talk to our families about the exciting news after we posted the photo.  We couldn't have asked for a better announcement experience. After taking our photo session, we all went paddle boarding on the river at around sunset, which was super calm and relaxing; A great way to end our day.