Today was our fourth day in Kauai; we spent more time with Randon and Melissa Guerpo, two of our friends who live here in Kauai.  We started out our morning with a bike ride through Makai Golf Club.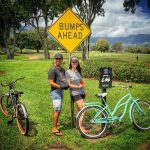 It was a beautiful day that day, but the sun wasn't overbearing so luckily none of us were uncomfortably hot.  The golf club was a really good choice for our bike ride; there are lots of trees, green hills and the area was very peaceful.  At some points during the bike ride we were riding next to some bluffs and we had an amazing view of the beach below us.  The previous day Kari and I had ventured out this way and decided to ask our local friends if they had been to Hideaways Beach.  They surprisingly said no!
After our bike ride we made our way to Hideaways Beach.  The hike had a lot of steep areas, but the canopy of trees that we were walking through was gorgeous and very lush (like most of the east side of Kauai).  What made the hike even more pleasant was the fact that there was a lot of tree cover, so it was a very comfortable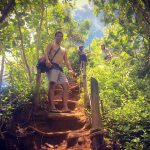 temperature, but we still got to enjoy the sun shining through the leaves.  During one part of the hike, the hill we were climbing up was pretty steep, which I am not a fan of, but thankfully there were steps carved into the dirt and there was a rope for us to hold onto.  Kari and Melissa had to take off their sandals to avoid slipping on the steep areas, but we all made it to the bottom where the beach.  Several times throughout our hike we were able to see Hideaways Beach below us; We could even see people snorkeling over the reefs, and the beach looked amazing because the sun was out and the water was so clear.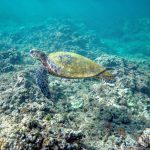 Once we got down to the beach we left our stuff in a shady spot and then went snorkeling for awhile.  We participated in the local snorkeling which is just a pair of goggles and being able to hold your breath as you dive into the water to explore the reefs. This was definitely the best day I've had so far for snorkeling.  I saw tons of fish and a huge sea turtle.  At first it was somewhat intimidating getting so close to the turtle, but eventually I was comfortable enough to get near it but never touching it as I'm a big believer in respecting nature and the animals.  In fact I think it's illegal to touch them anyway.  The water felt amazing and Kari, Melissa, Randon and I spent a lot of time snorkeling and enjoying the water.  This was definitely a successful fourth day in Kauai!