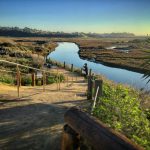 Today Makena, Milo, Kari and I took a trip to the San Elijo Lagoon in Carlsbad, California.  The ecological reserve is almost a thousand acres, so having enough space to explore definitely was not an issue for the four of us.  The San Elijo lagoon has tons of trails open for hiking, including Annie's Canyon Trail, the Nature Center Loop Trail, and La Orilla Trail.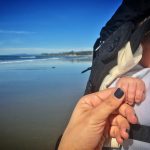 Before we headed over to the San Elijo lagoon, we stopped at Jimbo's to grab a bite to eat.  Kari and I are both vegan, so Jimbo's is one of the best options for us to find vegan snacks.  I ended up with some organic dark chocolate covered almonds, a Yerba Mate iced tea, and some vegan pumpkin caboodles. Once we arrived at the lagoon, we fed Makena and then headed out to one of the trails.  We didn't arrive until later in the day so we got to explore the lagoon during the golden hour, and the views were absolutely stunning.  The sunset reflected off the water in the lagoon, and the trees and other plants that live in the wetlands were also beautiful.  A lot of the area surrounding the lagoon and rivers weren't in bloom because it's still winter, but the hike was still amazing.  Luckily Kari and I brought plenty of layers for Makena, since it was pretty chilly as the sun went down.  
We also got to learn a lot about the lagoon by reading the different information signs that were posted along a lot of the hiking trails.  The San Elijo lagoon has five commonly found fish species, including the California Halibut and the Striped Mullet Fish. There are also tons of bird species that occupy the lagoon, like the Great Blue Heron, the California Brown Pelican, and the Red Tailed Hawk.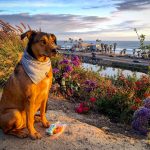 It was great to be able to take Makena out in nature for a day, and Milo and Kari made the day even more worthwhile.  We got to spend a gorgeous afternoon together as a family.  Living in Carlsbad gives us the opportunity to explore something new everyday.