Truth About Zillow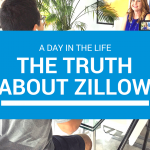 I got together with Amber Anderson today to learn the truth about selling real estate through Zillow. Although it's a powerhouse in the real estate field, there are some key things you need to know in order to use it as effectively as possible. After swinging by a showing of a beautiful ocean-front property (which happened to be featured on the cover of Dream Home Magazine), Amber shared her three secrets to a successful Zillow experience.
First of all, sellers have to be aware that the "zestimate", an algorithm used by Zillow to calculate the worth of a home, may not be accurate. The computer program lacks three essential components when calculating the property value: condition, location, and supply and demand. Without being able to walk through a home, appreciate its location, and determine its condition, it is almost impossible to gauge the value of a property. Amber's number one tip is to consult an agent to determine a home's worth.
Her next piece of advice concerns how you showcase a property online. Using high quality, professional video, instead of a shaky iPhone video as most agents do, ensures your home gets the attention it deserves. Amber's team is one of only 3 in the San Diego area that pays to use a professional videographer's work on the Zillow platform. Because of this, their properties are at the top of search results, guaranteeing maximum exposure. 
Although not all agents love Zillow, there's no denying that it is a useful tool that is here to stay. Agents, including Amber, use Zillow and the accompanying app to search for new listings, show properties, and find open houses. With that being said, it is important to keep your property relevant when trying to sell. Amber's third and final tip is to update your main photo every 5 to 7 days in order to keep your listing fresh and noticed.
Tip Summary
Consult an Agent
Use Professional Videography
Update Photos Every 5-7 Days
Zillow can be a seller's best friend, as long as it is utilized correctly. With Amber's advice, theres no doubt that properties will be selling like hotcakes.